I spent my morning today at my daughter's 'Paskuhan 2011′ – this is their annual school activity fostering parent and child bonding at a school setting. There were lots of activities prepared – ball games, parlor games and a bazaar on the side.
I make it a point to attend every year, not only that it's my children's school requirement, It's a responsibility every parent should at least comply to show support and be an example to these kids to be active participants in their school endeavors.
We cheered out loud to dads who 'went to town' – it was a blast, kids had enjoyed it.
Some say it wasn't as organized as last year, but I think let's dwell more on the fun side than the slip side. There's always room for improvement.
This is the color of the day – Our Red Team won!
The bazaar at the canteen lobby, after three rounds around this area – I only had bought a single green cupcake, lol.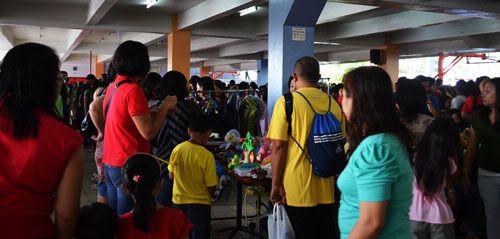 Exhausted after whining and running around the sports complex.